BUGLE CLASS
Larry DuPree is teaching new buglers in Cincinnati to sound Taps as the call as written. The current class consists of Ohio Military Honor Guard members of the Army and Navy, a Marine League Honor Guard member and others interested in providing "Live"Taps. The course is 6 months long, meeting once a week for the first month and monthly thereafter.
The course covers the story of Taps, embouchure development, breathing exercises and mental tips to enhance performance. Guest musicians will be invited periodically.
Larry is an Air Force veteran and continues to serve by sounding Taps at military funerals.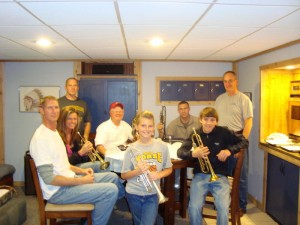 Jason Meyer – ANG FH cordinator for Ohio
Michelle White – ANG
Charles Mc Grevy – ANG
Jerry Latham – Marine League FH
Faythe Covert – Our youngest bugler
Kyle Gray – ANG
Larry DuPree-
Chad Curtis – High School Junior
More Articles