M1892 Modern "Boy Scout" Bugle in G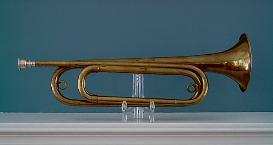 These are the M1892 bugles on which all modern bugles are based. They are usually marked Regulation Bugle or with a manufacturer's name. For many years these instruments were manufactured by King, C.G. Conn, Buescher, York, Holton, Ludwig, Millard, and Weymann. These horns are quite easy to find on internet auction sites and are still manufactured. A company called Buglecraft was making them for a long time and selling them under Rexcraft an Rex and US Regulation. Recently a company called Regulation Bugle started selling the M1892 pattern They can be found HERE I do not believe the instruments sold by this company are made in the US.
The bugles are in the key of G which is pitched lower than modern trumpets so it is easier to sound all the notes. The problem is that these horns are mostly of cheap construction and play rather poorly. The term US Regulation does not imply it was manufactured in the US. It simply means it is of the US regulation (the specification of 1892). Better quality ones were made during the 1930s or 40s by instrument companies like Conn, Wurlitzer, Holton or Ludwig.
Clairon in C or B Flat for Civil War Use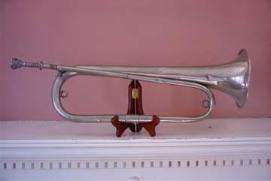 This is the most common type of bugle used in the Civil War. It is a big-belled instrument that is in the key of C but can be lowered to B flat with the use of a crook. There are good modern reproductions made by Amati and Andrew Naumann. There are also hundreds of French-made (Coueson) instruments that are period correct. The Amati andFrench-made models are in the key of B flat. They can be found on internet auction sites and at relic shows.
Good Civil War Reproductions are being sold by
Jan H. Berger
Bentingstraße 10
49477 Ibbenbüren
Fax 05451/896331
Email: j.h.berger@lederarsenal.com
M1894 Bugle in B Flat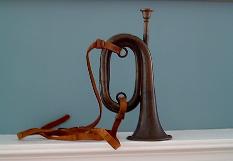 This is the M1894 bugle in B flat, also referred to as a "Trench" bugle. These small WWI triple twist bugles can be found without much problem on internet auction sites and at antique or relics shows. They are identified by the writing on the bell which marks the manufacturer, specification number (Spec. 1152), and date of production. They have no tuning slides and the pitch is not consistent between horns.
British Duty Bugle in B Flat
This is a double twist bugle in B flat. They were introduced in England in 1855 but the model they are based on can be traced back to 1810. This is the model that all Civil War sutler ("Gunga Din") bugles are based on . These horns were probably not used during the Civil War and there are no known pictures of a musician with one during that period.
"Gunga Din" Bugle in B Flat
This is the cheap Pakistan or Indian made instrument. Civil War sutlers sell them with a USA or CSA marking on them and also with crossed sabers and a "7" and "A." There are no known photos of a Civil War bugler with one of these horns.
Go to a
specific page
of this post: 1
2
More Articles
Tags: bugle, bugler, collecting, reproductions