Re-enactor, Photographer, Eagle Scout, US Marine, Self-proclaimed "wannabe bugler," Director of Teen Winter Sports, Drum Major, Quartermaster, Surgeon, Organizer of the Eastern Field Music School, Rider of Roscoe the mule, American.
We will miss you.
"Let us cross the River and rest in the shade of the trees"
We've created a tribute page showing Don hard at play, doing what he loved.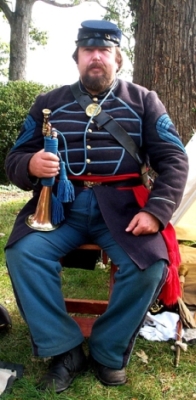 Quotes and Photos: Don Hubbard (August 15, 1943 – December 18, 2003)
"I'm thankful that, in a small way Don will live on forever in the films he loved so much. Goodbye for now Don, we won't forget you."
"I was just getting to know Don but his commitment to field music and field musicians was undeniable… I regret that I didn't get to know him better… he will be missed."
"A more dedicated field musician will be hard to find. He will be missed mightily."
"God bless Don. May his spirit always be 'Upon the Heights of Alma.'"
"I won't forget him riding that donkey, or mule, or whatever the hell that animal was at Cedar Creek…. he was, as we say in Na Hampsha, 'a rig and a half.' Our hobby will miss him…. he did alot to make it fun, which is as important as being historically correct."
"His devotion to the music (on the field and off) of the War was so well known, not only to us who profited from his organizing the Confederate musicians at major events, but to the many thousands of spectators at those events who benefited from the demos of bugling and field music he set up and led. His selfless dedication to the Field Music School at Ft. Delaware over the past 4 years was a legacy to dozens of drummers, fifers and buglers in which he will live on. How will we get on without him?! I hope someone will convey to his family our sincere condolences and that we are no less shocked than they. His sense of humor and organization were unique in my experience. So whether it be in the guise of his good Confederate or of his beloved "evil" Yankee twin, we shall all be the poorer for his passing."
"I got to know Don quite well after he became involved with the 106 PVI and USV HQs. To know Don was to like him…you couldn't help it."
"A light has gone out in reenacting. Don was a Virginia Gentleman in the best sense, and gave his time and talent to our hobby for 40 years. He personally created and organized the Eastern School of Field Music at Ft Delaware for the last few years. We will all miss his sense of honorable behavior and duty."
"Godspeed Bugler, may your soul rest in eternal peace."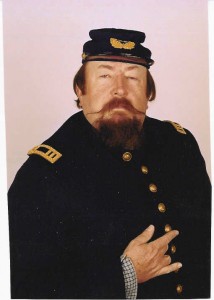 "He was an icon in the reenacting world, and will be sorely missed. I first met him at 135th Antietam, and will always remember his kindness and patience with the young drummers. He was a teacher, historian, and human being of the first order… Don and others began taking charge of music at events. Offering properly trained buglers and field music Corps to Generals. Today bugle calls and field music at Parade and for camp duty is an integral part of nearly ALL reenactments… I would hope that the "Don Hubbard School of Field Music" be reconvened every year at Ft. Delaware. A living memorial to his efforts. And that all field music corps have one memorial trooping of the colors…where a special order is read by the colonel, and then the infantry line is passed by the field musics. One more time, with flags flying, drums beating, fifes shrieking, and trumpets blaring. Three Cheers for Don, may he rest in eternal peace forever."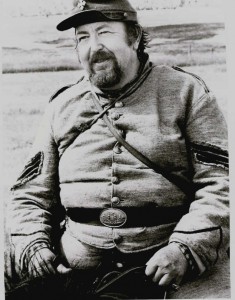 "I first met Don in 1990 when he was running a musicians group in Ellicott City. Our paths continued to cross until this year's McDowell when he gave me a ride from Dulles airport to the event. In that drive in immortal 'supply wagon' I learned more about all things QM and music than in the previous 14 years in the hobby. I also learned about BBQ ribs, another of Don's areas of expertise, as we stopped at a rib shack I had driven past many times without stopping. I will stop there from now on out and think of him… It takes strong personalities to change things in this hobby, and Don was responsible for a generation of young musicians doing it right. He is also responsible for a much greater appreciation of the QM and CoS impressions and their importance. He was always generous with his time and help… normally unsolicited but often badly needed… We are all much better for having known him. I can just imagine St. Peter looking through the list of things he needs done in heaven… and trying to figure what to have Don start on first. Betya the bugle section improves up there!"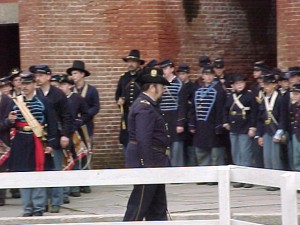 "It was my pleasure to work with Don on a number of MediaMagic movie shoots, and I also crossed paths with him at a number of major Eastern events. It is said that in any body of men there are three groups — the 'doers,' the 'complainers' and the 'troops.' Don was definitely a 'doer,' always looking for ways to help and going above and beyond the simple call of duty. And I don't think I ever heard him complain."
"I will be there. I think I'll even polish my brass, as Col. Hubbard pointed out I was in need of the last time I was at Ft. Delaware. My son, Joseph, and I will particularly miss him. Don always went way out of his way to encourage each of us in bugling and reenacting, and always treated us as special friends. I suspect that Don did that with everyone, but he nevertheless made us feel that we were high in his friendship. We always looked forward to seeing Don at reenactments, and had a lot of fun with him about that faithful old mule that Don rode."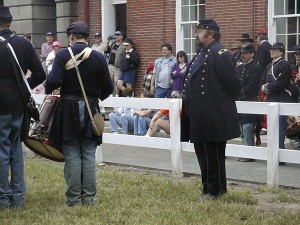 "The 'hobby' and the world has lost a good friend. Don's heart was as big as New York City and he truly cared about all of us. He will be missed but never forgotten. Old soldiers never truly die as long as they are remembered. They just go TDY for a time and we will rejoin them in a better place."
"It is hard to put in words what he meant to musicians and those who strived to be one."
"Don was the type of person who had a high standard for authenticity in reenacting & film work. As a result, he would get quite frustrated with change that he, at times, was unsuccessful in facilitating. Even so, he was never heard to say an unkind word about anybody. I really liked and admired him a lot."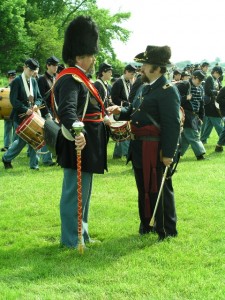 "Please add to the lists of credits of Don Hubbard as becoming a first year member and still in my book a member in Good Standing with Historical Entertainment, formally Historical Extras. I just got Don's 2004 application three weeks ago. He will be sorely missed by his fellow members as he has been in at least ten productions with us since our beginning in 2001. His legacy WILL live on in us and we all know it will be a sad year without him on the field. We offer our greatest condolences to the family at this time of grief."
"Drop your pack and stand easy, Marine. It's the last liberty gig."
"Behold, I show you a mystery; we shall not all sleep, but we shall all be changed, in a moment, in the twinkling of an eye, at the last Trump: for the Trumpet shall sound, and the dead shall be raised incorruptible, and we shall be changed. But thanks to God, Who giveth us the victory through Christ the Lord, Eternal, Living One. Therefore, my beloved brethren, be steadfast, immovable, always abounding in the work of the Lord, knowing that in the Lord your labor is not in vain."
1 Corinthians 15:51-52, 57-58
Day is done, gone the sun,
From the lake, from the hill,
From the sky.
All is well, safely rest,
God is nigh.
Go to a
specific page
of this post: 1
2
More Articles
Tags: bugler, Don Hubbard, In Memoriam