TAPS BUGLER-JARI VILLANUEVA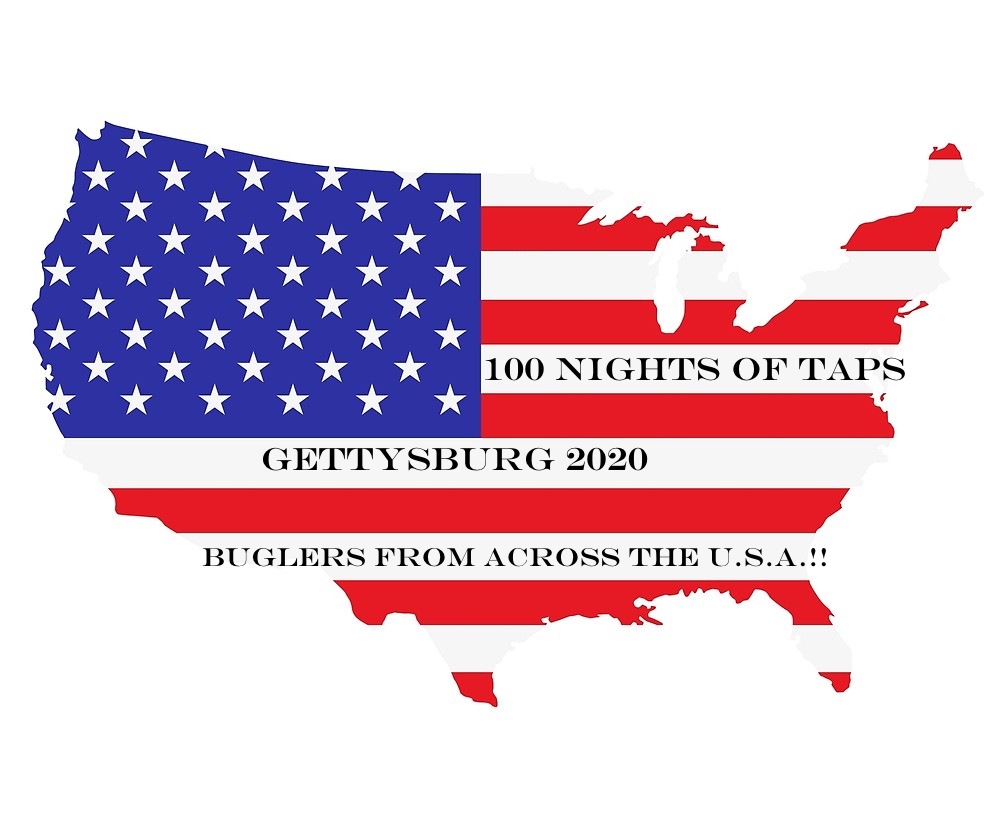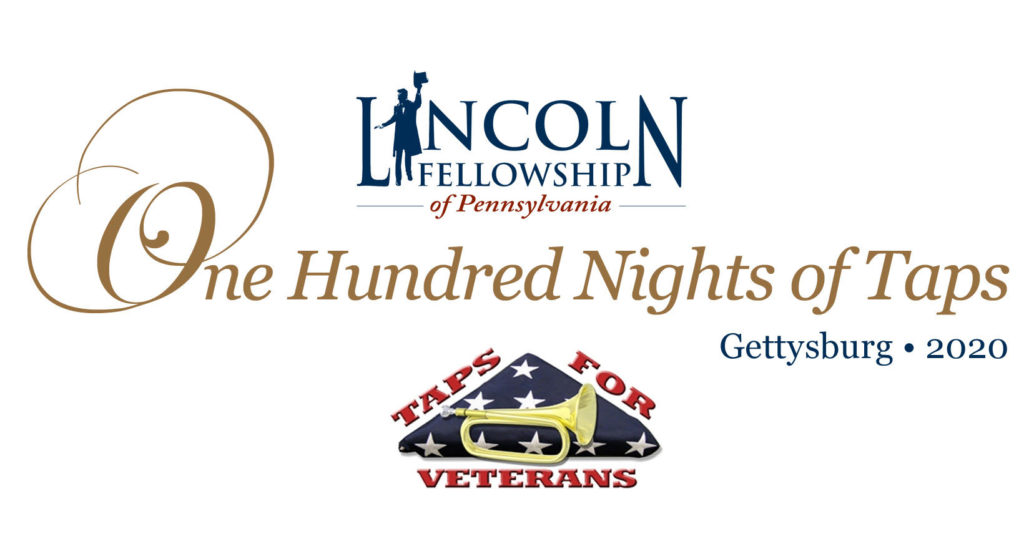 100 NIGHTS OF TAPS GETTYSBURG 2020

Every night in Gettysburg from Memorial Day through Labor Day
Taps is sounded every evening at 7 pm at the
Soldiers' National Monument in the National Cemetery in Gettysburg PA.
For more information
CLICK HERE
<
Video on the history of Taps
Jari Villanueva-Taps Bugler
LOOKING FOR A LIVE BUGLER?
CLICK HERE
or
Contact
www.TapsForVeterans.org
We have a Patreon Page set up for your support of
what TAPS BUGLER does
https://www.patreon.com/TapsBugler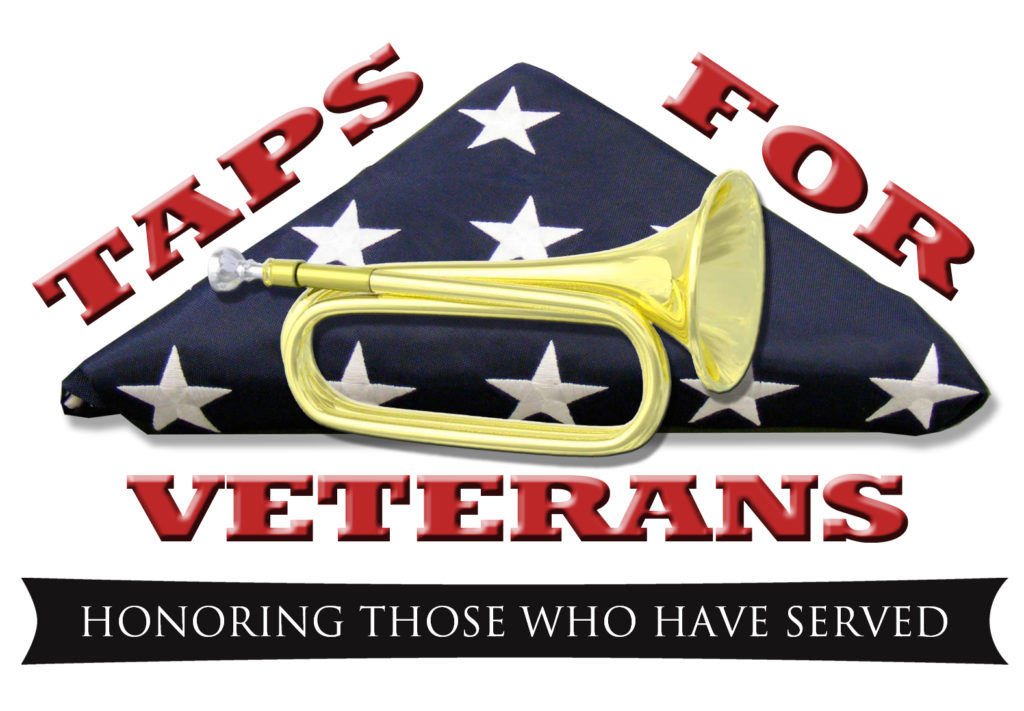 Taps for Veterans www.TapsForVeterans.org is a great organization that does not discriminate against any bugler or trumpeter wishing to join their ranks. In fact TFV encourages and welcomes all players who wish to sound Taps for our Veterans. For more information or to sign up visit the Taps for Veterans Facebook page or the website TapsForVeterans.org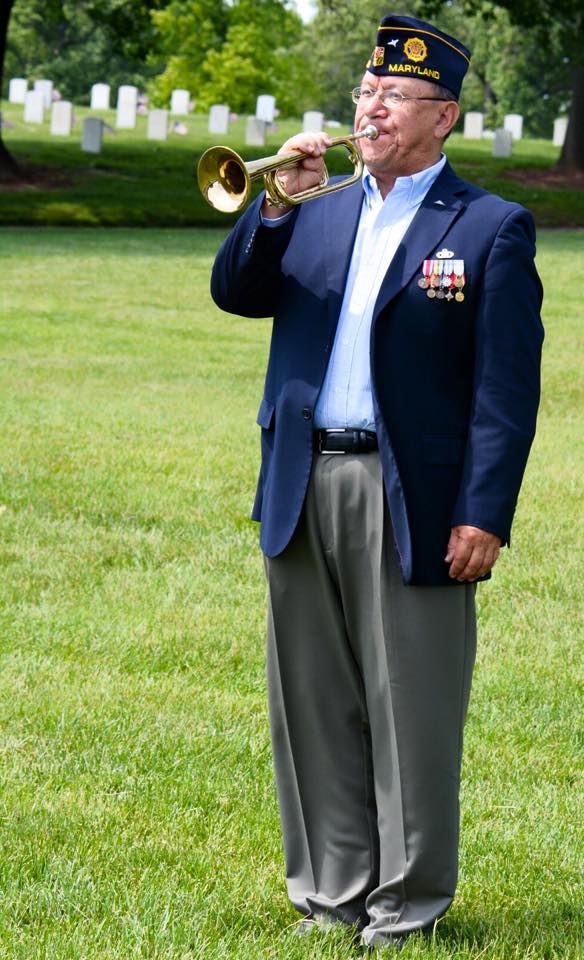 Taps Bugler will help steer you in the right direction for a good live performer.
_________________________________
OUR VIDEO ON THE ORIGIN OF TAPS
PLEASE HELP US WITH A DONATION
YOUR HELP KEEPS THIS WEBSITE RUNNING WITHOUT ADS
THANKS!!
Jari Villanueva
If you are having trouble with the PayPaL link, use this one:
https://www.paypal.me/TapsBugler
THANKS FOR YOUR SUPPORT!
And we have a Patreon Page set up for your support of
what TAPS BUGLER does.

https://www.patreon.com/TapsBugler
We have a new way for you to keep up with posts from Taps Bugler. Please sign up for updates from Taps Bugler on the right side of this page. We post articles about Taps, bugling, bugles and other subjects that are sent direct to your email address. Our email list is only used by Taps Bugler for our subscribers. Hope you sign up today to receive some interesting articles!
#tapsbugler
______________________________________
Nice interview with Jari Villanueva
"The Bugle Call That Went Viral"
From Between The Liner Notes.
Between the Liner Notes is a documentary style podcast about music, why it is the way it is and how it got to be that way. Episodes are released the first Monday of every month.
www.betweenthelinernotes.com
WELCOME TO TAPSBUGLER!
PLEASE HELP US KEEP AD-FREE AND UP TO DATE!
DONATE TODAY-EVERY LITTLE BIT HELPS
————————————————————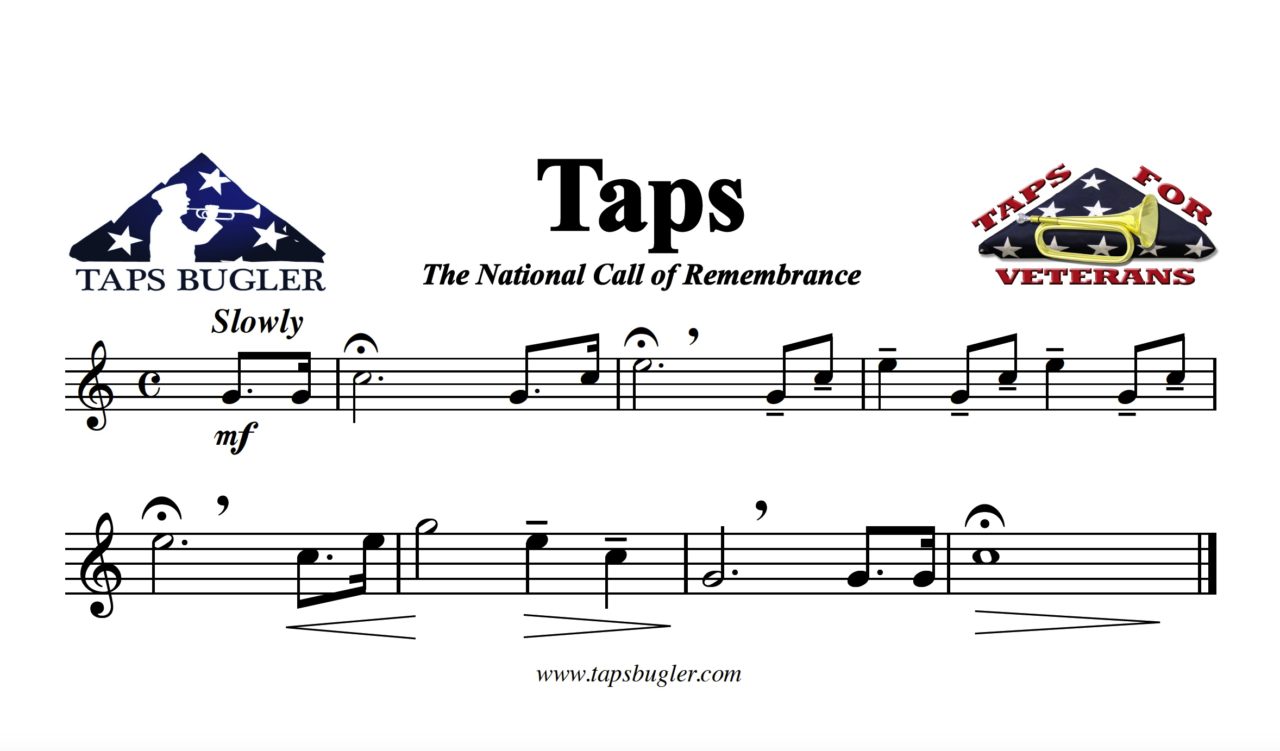 IT IS MY HONOR
My presentation for Boeing

At the Baltimore Convention Center in Downtown Baltimore for the American Legion National Convention-Baltimore Maryland August 2015
Villanueva, who is also known as the Taps Bugler, retired from the United States Air Force Band in DC where he spent 23 years as a bugler at Arlington National Cemetery and currently helps by sounding Taps for TFV in the Maryland/Virginia area. He is also a bugle historian who published an article in the Legion Magazine in November 2012. Click on the image below to read the article about Taps.
Looking for some information on this website? Try looking through our links by CLICKING HERE or our index by CLICKING HERE or use our search feature

The origin of Taps, the ceremonies in which it is used, and the stories of those who have performed the call are a significant but often overlooked part of our history. The 68-page booklet "Twenty-Four Notes That Tap Deep Emotions: The story of America's Most Famous Bugle Call," by Jari Villanueva, tells the story of the famous call and those who created it. Twenty-Four Notes That Tap Deep Emotions is available for $15.00 (plus shipping) by CLICKING HERE
LOOKING FOR A LIVE BUGLER TO SOUND TAPS
OR OTHER BUGLE CALLS?
CLICK ON PHOTO BELOW FOR INFORMATION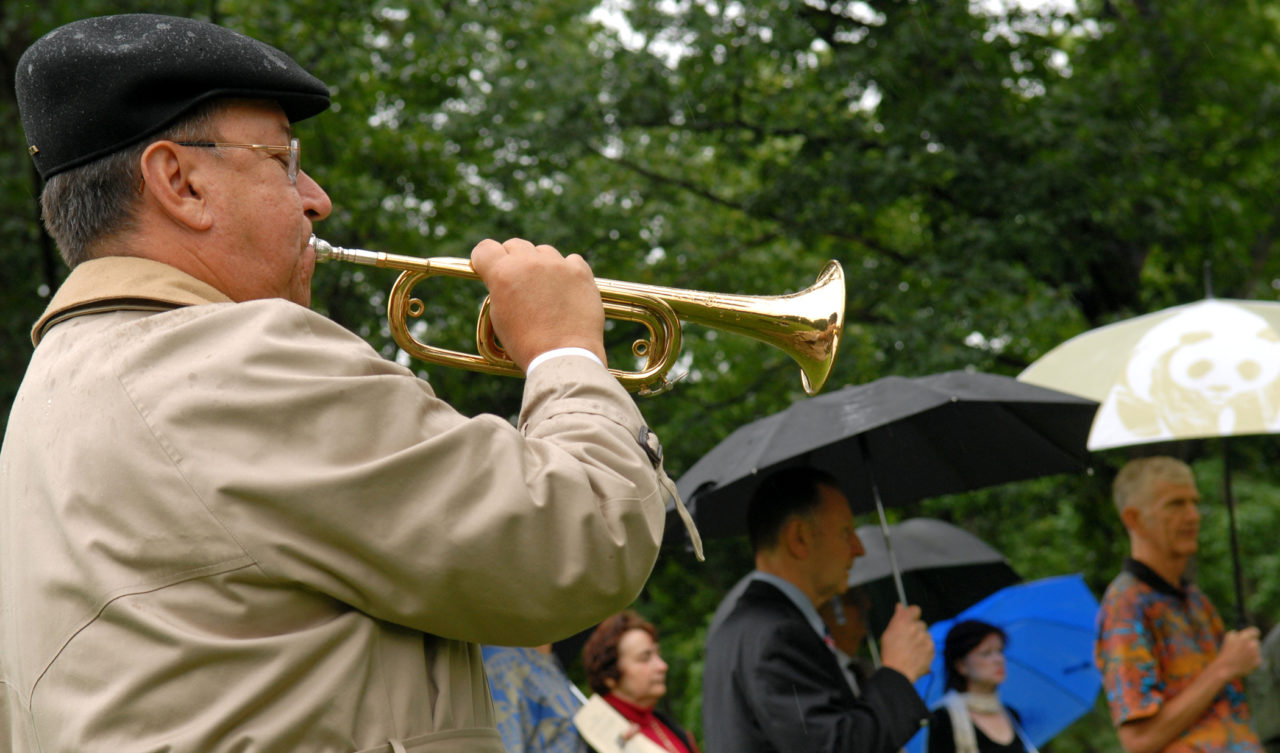 A NEW VIDEO ON THE ORIGIN OF TAPS
"SAFELY REST: THE SAGA OF TAPS,
AN AMERICAN BUGLE CALL."
The History of the Call and why we do it.
Thanks to Henrico County, Virginia
Ryan Eubank, Senior Television Producer/Director HCTV 17
County of Henrico
We have a store set up where you can purchase bugles, bugle related items, music, TAPS 150 items and much more. CLICK HERE FOR THE STORE
PLEASE HELP TAPSBUGLER.COM This site is run completely ad free
If you are visiting, PLEASE make a donation to keep this site running. We spend a lot each month in fees to have the site hosted and provide the downloads
Thanks!!
Looking to have Jari Villanueva do a bugle presentation for your Civil War round table or as a guest speaker?
CLICK ON THE PHOTO BELOW FOR MORE INFORMATION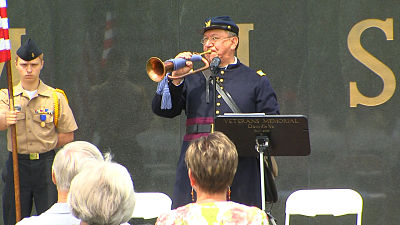 —————————-

TAPS BUGLER FACEBOOK PAGE JUST CLICK ON THE LOGO BELOW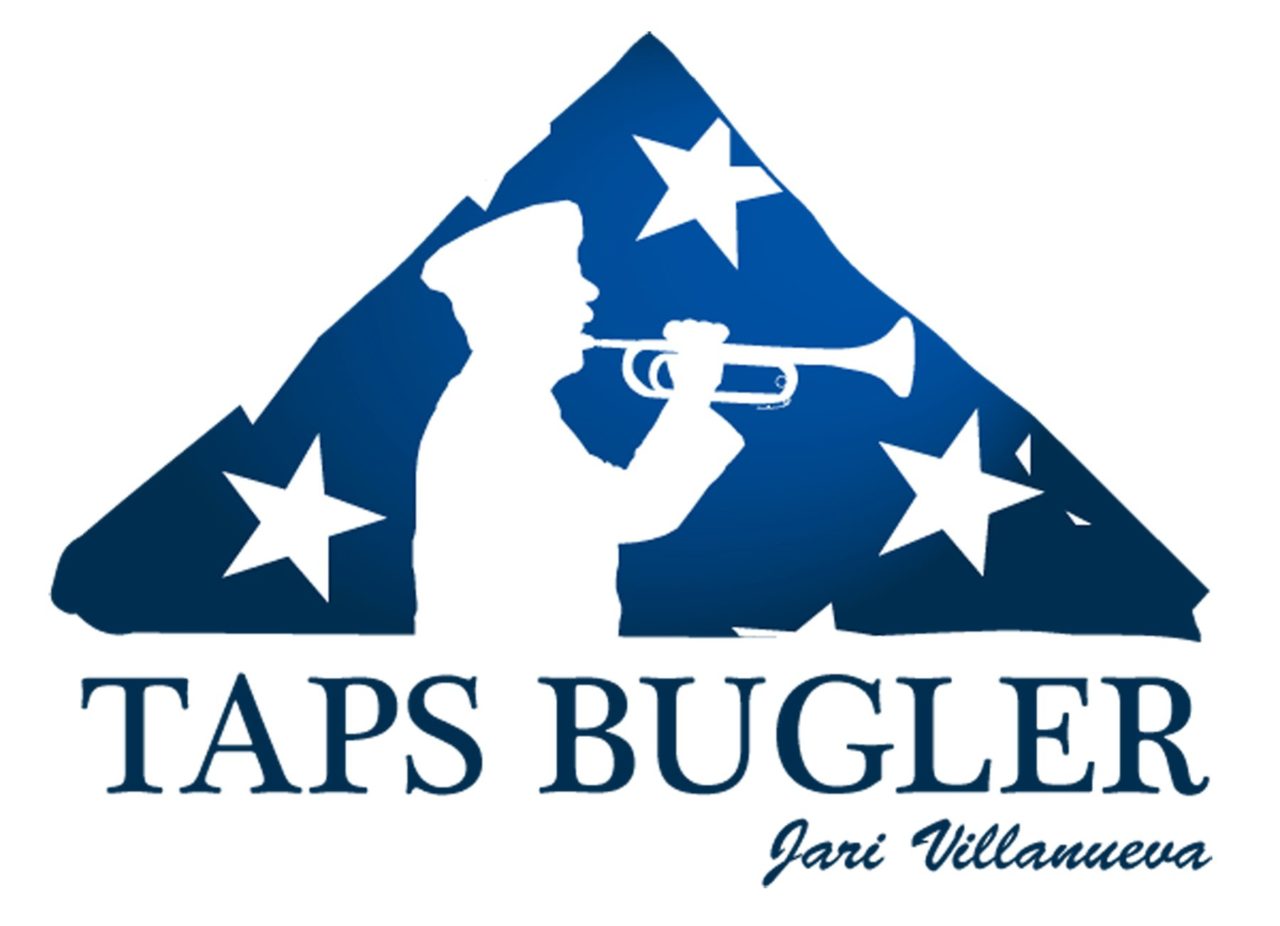 ——————————————————————
Please take a few minutes and watch the message from Jari's video below
If you are looking for something in particular try looking in the index tab above or try the search tool.
If you still can't find what you are looking for drop me an email by CLICKING HERE
A message from Jari Villanueva
For a transcript of the video click HERE
————————————————————————————————————————
If you are looking for a particular post you can go directly to the Index of Posts by clicking the tab above marked Index or click HERE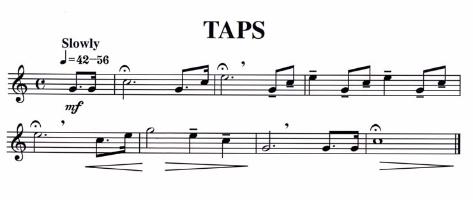 If you wish to purchase a download of this recording please CLICK HERE Proceeds go to maintaining this website
——————————————————————-
The November 2012 issue of The American Legion Magazine has my Taps Article. You can see it by clicking on the photo below.

——————————————————————————————————————–
Click on photo below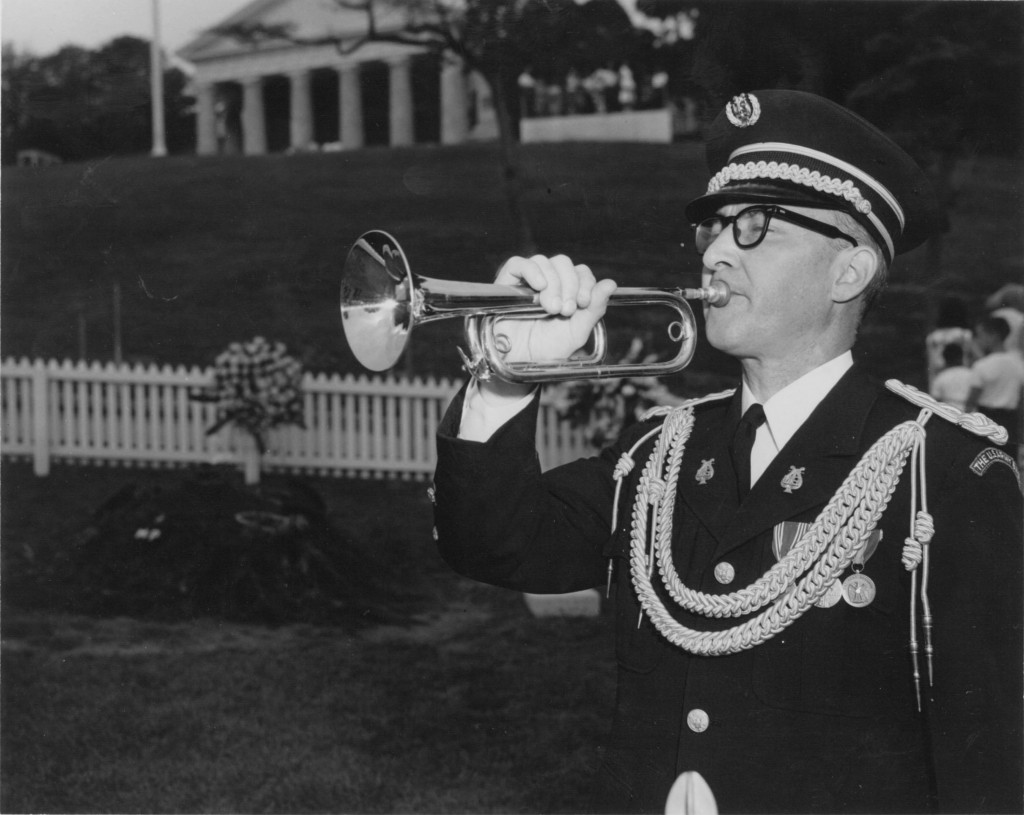 NEW!!
——————————————————–

The 150th anniversary of Taps was marked in June with rededication of the Taps Monument at Berkley Plantation, Va., where Butterfield and Norton were camped in 1862.
——————————————————–
The TAPS 150 CD
Available here!
"DAY IS DONE"
Music commemorating the 150th Anniversary of Taps
—————————————————————————————
You can listen to a podcast of MSgt Jari Villanueva talking about ceremonial duty at Arlington National Cemetery Click on the image above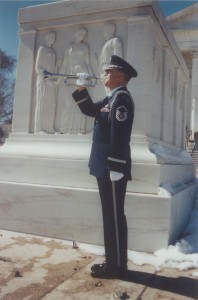 Jari Villanueva, Bugler, Sounds Taps at the Tomb of the Unknowns, Arlington VA
Of all the military bugle calls, none is so easily recognized or more apt to evoke emotion than the call Taps. The melody is both eloquent and haunting, while the history of its origin is interesting and somewhat clouded in controversy. In the British army, a similar type of signal called Last Post has been sounded over soldiers' graves since 1885, but the use of Taps is unique to the United States military, since the call is sounded at funerals, wreath-laying ceremonies, and memorial services. A bugle call that beckons us to remember patriots who served our country with honor and valor, it is the most familiar call and one that moves all who hear it.
On any weekday at Arlington National Cemetery in Virginia, a military ritual occurs that is both familiar and moving. An escort of honor comes to attention and presents arms. A firing party comes to attention, then fires three volleys. After the briefest of moments, a bugler sounds the twenty-four notes of America's most famous bugle call. The flag, held by members of the military honor guard, is then folded into a triangle reminiscent of the cocked hat from the American Revolution. That ritual is performed almost twenty times daily during the many funerals held at Arlington.
How did these twenty-four notes we know as Taps come into being? Who wrote the melody? When was it composed? Where was it first performed? What was the original use of the call and how is it used today? These questions have been asked by many over the past century. To date there has been no in-depth research published on the history of Taps.This site will answer many questions about Taps, bugling, and the history of this military tradition, as well as guide you if you are looking for a bugler to perform at a ceremony or funeral.
For more information contact Jari Villanueva
The origin of Taps, the ceremonies in which it is used, and the stories of those who have performed the call are a significant but often overlooked part of our history. The 68-page booklet "Twenty-Four Notes That Tap Deep Emotions: The story of America's Most Famous Bugle Call," by Jari Villanueva, tells the story of the famous call and those who created it. Twenty-Four Notes That Tap Deep Emotions is available for $15.00 (plus shipping) by CLICKING HERE
All the information on this site is © copyright 2001-2019, All Rights Reserved. If you wish to use any material on this website contact Jari Villanueva for permission