WHAT IS TAPS?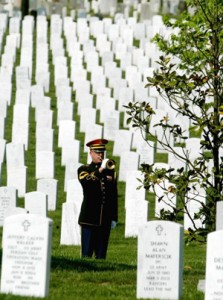 It consists of 24 notes played on an instrument that can only play five pitches of the overtone series.
It's a call that is easily recognized within the first three notes.
It's usually played on a bugle or trumpet.
It's the only call in the military that is played slowly throughout.
Its simplistic melody has evoked emotions from the most hardened combat veteran.
Its origin has been clouded in mythology.
It's a call that has a dual purpose-one to signal lights out at the end of the day and the other as a formal military honor to those who have served in uniform.
It's a call that that has been open to interpretation and arrangement-from a solo rendition, to an echoed version, to accompanied arrangements as musical settings.
It is a melody that has had many lyrics set.
It is a piece performed by polished military professionals, amateurs, school bandsmen, and volunteers interested in providing the service at veterans' funerals.
It is America's National Song of Farewell.
More Articles
Tags: bugle, definition, taps