100 NIGHTS OF TAPS GETTYSBURG 2017

Taps sounded every evening at 7 PM by the Soldiers National Cemetery in Gettysburg PA. starting May 29, 2017 and ending September 4
This will be at the Soldiers Monument at the
Gettysburg National Cemetery.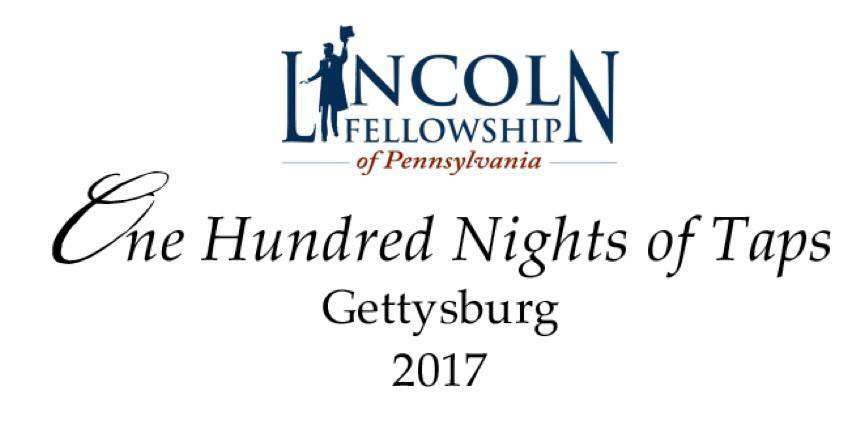 This is open to buglers and trumpeters of all ages.
Participants will be expected to report to the
monument by 6:30 PM on the evening they sound Taps and sound Taps at 7 PM sharp.
There will be a representative there to greet each performer.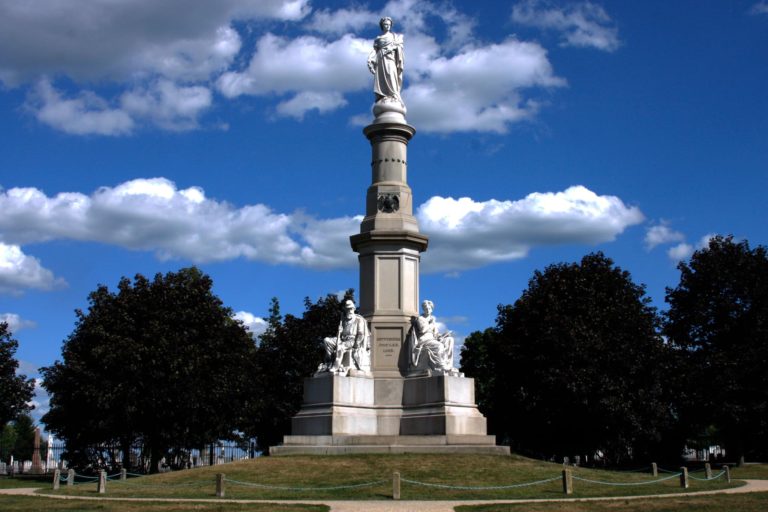 REGISTRATION INFORMATION FOR 100 NIGHTS OF TAPS
1. Please choose any date (or you can pick more than one) between Monday May 29 and Monday September 4 *CHECK AVAILABLE DATES BELOW
2. Send an email to GettysburgTaps@gmail.com requesting a date.
You will need to include the following in your email:
-Name:
-Address:
-Email and Phone:
-Age:
-Dates(s) selected for sounding Taps at Gettysburg
-short background information (for any press releases)
-Optional photo
3. You will receive an email response about the date within 24 hours of the request. (FIRST COME FIRST SERVED)
4. A schedule will be posted below of the dates and buglers for the evening
5. It is important that you keep us informed of any changes.
7. Important information.
This event is rain or shine
Taps is a solemn honor to those who have died in service to our country and to those who are serving in uniform today.
Please dress appropriately
-Military or Civilian dress (appropriate clothes please)
-Civil War Re-enactors (Union only please)
-Any other US Military Re-enactors ( WWI, WWII, etc..)
-You may use a bugle, cornet or trumpet
-Echo Taps will be allowed for this event if you are coming with another bugler. Please let us know ahead of time.
DATES and Roster-100 NIGHTS OF TAPS GETTYSBURG 2017
Monday May 29-Jari Villanueva and other buglers (all are welcome)
Tuesday 
May 

30-Carl Schlager, North Carolina Bugler USAF Veteran


Wednesday 

May 

31-Jim Little, USAF Veteran, Texas State Chair-National Band Association


Thursday June 1-T

odd Kirkwood, CMSgt, 167 AW WVANG


Friday June 2-David Miller, Aerospace Engineer, BSO "Rusty Musicians" Program
Saturday June 3-David Miller, Aerospace Engineer, BSO "Rusty Musicians"Program
Sunday June 4-Ron Glazer, Command Chief Master Sergeant, West Virginia ANG
Monday June 5-Priscilla King, Pick Music
Tuesday 
June 6-Jari Villanueva, In honor of those who fell on D-Day, 1944
Wednesday 
June 7-Mitchell Mummert, SFC (ret), Brodbeck's Band 
Thursday June 8-Alan Tolbert, Temple University
Friday June 9-John Thomas, USAF Colonel (ret) Maine Bugler
Saturday June 10-Buglers from Gettysburg Brass Festival
Sunday June 11-Bob Slamp, Mifflin Guard Bugler
Monday June 12-James Cherven, 1st Ohio Light Artillery Battery  H
Tuesday 
June 13-Brandon Augustine, South Western High School, Hanover, PA 
Wednesday 
June 14
Thursday June 15
Friday June 16
Saturday June 17-Samuel Costa, Army National Guard
Sunday June 18-
Mitchell Mummert, SFC (ret), Brodbeck's Band
Monday June 19-Alex Hessler, Gettysburg Area High School Band
Tuesday 
June 20-Geoff Spangler, Calvert Arms Fife and Drum Corps
Wednesday 
June 21-Jari Villanueva, Taps Bugler
Thursday June 22-Kraig Herman, Pennsylvania Office of the State Fire Commissioner
Friday June 23
Saturday June 24
-Kraig Herman, Pennsylvania Office of the State Fire Commissioner


Sunday June 25-
Mitchell Mummert, SFC (ret), Brodbeck's Band
Monday June 26-Wes Synder, US Army Veteran




Tuesday 

June 27-Joseph Pittelli, USAF MSgt 

(ret) NY Air National Guard, Civil War Historian


Wednesday 

June 28

-Joseph Pittelli, USAF MSgt 

(ret) NY Air National Guard, Civil War Historian


Thursday June 29

-Geoff Spangler, Calvert Arms Fife and Drum Corps


Friday June 30-

John Thomas, USAF Colonel (ret) Maine Bugler
Saturday July 1-David Michel, Civil War Bugler
Sunday July 2-Kenny Bierschenk, 

Westside Community Band-Cincinnati, Ohio
Monday July 3-Aidan Peterson
Tuesday July 4-Special Guest Buglers
Wednesday July 5
-Joseph Pittelli, USAF MSgt 

(ret) NY Air National Guard, Civil War Historian
Thursday July 6-Kraig Herman, Pennsylvania Office of the State Fire Commissioner
Friday July 7-

James P. Conant, 

1SG, NYARNG (Ret)


Saturday July 8-John Thomas, USAF Colonel (ret) Maine Bugler
Sunday July 9-John Thomas, USAF Colonel (ret) Maine Bugler
Monday July 10-Alex Hessler, Gettysburg Area High School Band
Tuesday July 11--Brandon Augustine, South Western High School, Hanover, PA
Wednesday July 12-J
osiah Stetler, Northern York High School, Reading Buccaneers Drum and Bugle Corps


Thursday July 13
Friday July 14-

David

Burkhart, 

Pennsylvania Symphonic Winds. (Dr) Allen C. Guelzo, Professor of the Civil War Era at Gettysburg College will precede Taps with a few appropriate remarks.


Saturday July 15-Brian and Drew Wilkie, F

ather-Son soloists that have marched with The Cadets Drum and Bugle Corps


Sunday July 16-Nicholas A. Brown, US Army Veteran, Library of Congress,
Monday July 17-Nicholas A. Brown, US Army Veteran, Library of Congress, Taps in Honor of Daniel Butterfield who passed away on this date in 1902
Tuesday July 18-
Damon Morris, SCI Coal Township Honor Guard for the PA Department of Corrections, In honor of Major  General Samuel K. Zook wounded at Gettysburg July 2,1863 died July 3, 1863


Wednesday July 19
Thursday July 20-Kraig Herman, Pennsylvania Office of the State Fire Commissioner
Friday July 21
Saturday July 22-Richard Stoud, LDCR 

United States Coast Guard, Retired


Sunday July 23-

Ellie Cichocki, Napoleon, Ohio
Monday July 24
Tuesday July 25
Wednesday July 26
Thursday July 27-Kraig Herman, Pennsylvania Office of the State Fire Commissioner
Friday July 28-James Cherven, 1st Ohio Light Artillery Battery  H
Saturday July 29-James Cherven, 
1st Ohio Light Artillery Battery  H


Sunday July 30-

Mitchell Mummert, SFC (ret), Brodbeck's Band
Monday July 31
Tuesday August 1-
Richard Niven, Viet Nam veteran, retired high school band director


Wednesday August 2
Thursday August 3-Kraig Herman, Pennsylvania Office of the State Fire Commissioner
Friday August 4
Saturday August 5-Shawn Smith, 

Greenwood Community Band and Greenwood Brass Band


Sunday August 6-

Mitchell Mummert, SFC (ret), Brodbeck's Band
Monday August 7-Alan Tolbert, 
Calvert Arms Fife and Drum Corps


Tuesday August 8
Wednesday August 9
Thursday August 10-

E. Kenneth Bair II, Greenwood Community Band, BAA Volunteer


Friday August 11-Robert Goodman, 4

5th anniversary of the departure of last troops from combat in Vietnam


Saturday August 12-Keith DeFontes, US Army and Navy veteran, 229th Army Band, Maryland National Guard
Sunday August 13
Monday August 14-Jari Villanueva, Taps Bugler In Memory of Don Hubbard
Tuesday August 15
Wednesday August 16
Thursday August 17-Mark Heath, Chief Bugler Company B 7th Michigan Regiment
Friday August 18-Mark Paradis, US Marine Veteran, TAPS FOR VETERANS
Saturday August 19-Mark Paradis, US Marine Veteran, TAPS FOR VETERANS
Sunday August 20-
Mitchell Mummert, SFC (ret), Brodbeck's Band
Monday August 21
Tuesday August 22 
Wednesday August 23-Jari Villanueva, Taps Bugler
Thursday August 24
-Kraig Herman, Pennsylvania Office of the State Fire Commissioner

Friday August 25
Saturday August 26-Jari Villanueva, Taps Bugler
Sunday August 27
Monday August 28
Tuesday August 29
Wednesday August 30
Thursday August 31-Kraig Herman, Pennsylvania Office of the State Fire Commissioner
Friday September 1
Saturday September 2
Sunday September 3-
Bradford Mamalis, US Marine Veteran, former USMC Drum and Bugle Corps


Monday September 4-Jari Villanueva, Taps Bugler
More Articles
Tags: 100 Nights of Taps, Gettysburg National Cemetery, Gettysburg Taps, Lincoln Fellowship, taps