100 NIGHTS OF TAPS GETTYSBURG 2019
REGISTRATIONS WILL START
MARCH 1, 2019
100 NIGHTS OF TAPS GETTYSBURG 2018 POSTERS ARE HERE!
Click here for order form:
DonationsForPosterDriveOct2018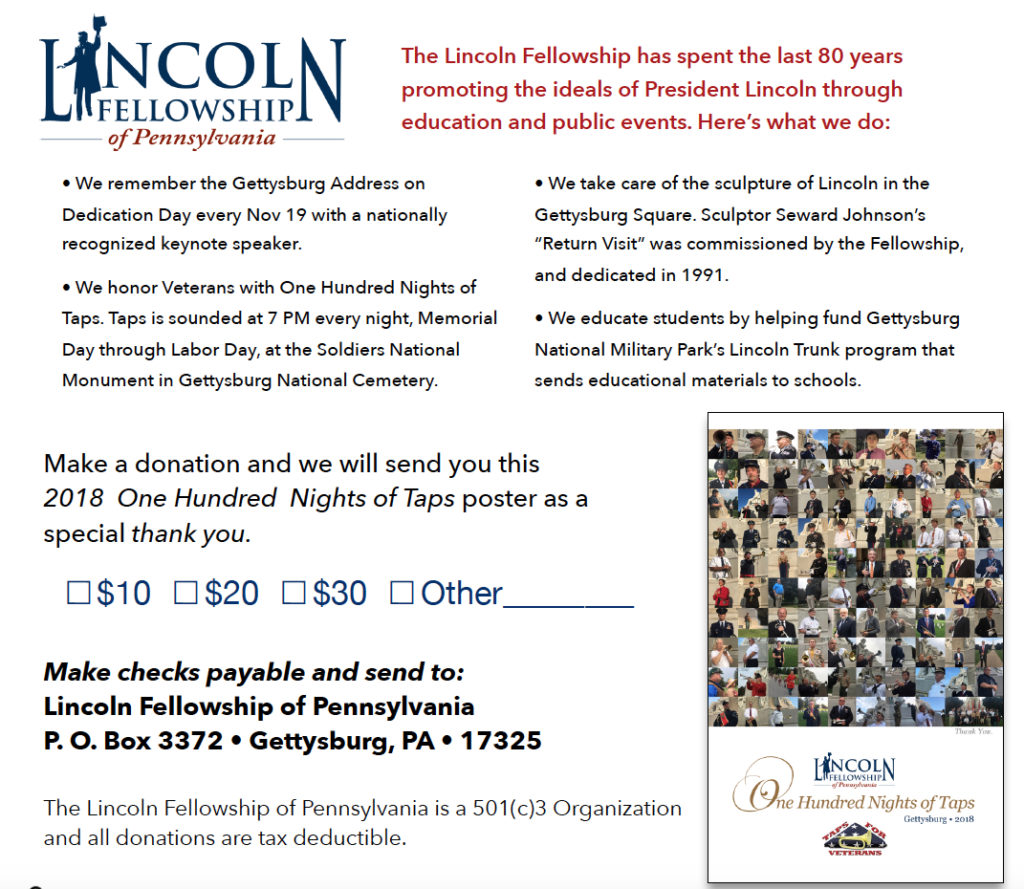 100 NIGHTS OF TAPS GETTYSBURG 2019

Taps sounded every evening at 7 PM  in Gettysburg PA.
May 27-September 2, 2019
This will be at the Soldiers Monument in the
Gettysburg National Cemetery.
ALL ARE WELCOME TO ATTEND

Wendy Allen, Founder and Coordinator
Jari Villanueva, Bugle Coordinator
100 Nights of Taps is open to buglers and trumpeters of all ages.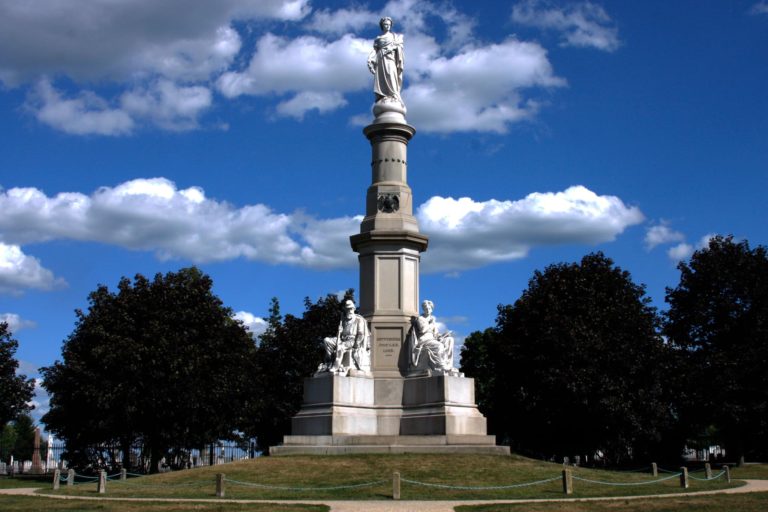 REGISTRATION INFORMATION FOR 100 NIGHTS OF TAPS
Please choose any date (only one) between Monday May 27 and Monday September 2, 2019 from schedule below.
Send an email to GettysburgTaps@gmail.com requesting a date.
You will need to include the following in your email:
-Name:
-Address:
-Email and Phone:
-Age:
-Date selected for sounding Taps at Gettysburg
-short background information (for any press releases)
-Photo for press release
You will receive an email response about the date within 24 hours of the request. (FIRST COME FIRST SERVED)
A schedule will be posted on the TapsBugler.com website of the dates and buglers for the evening
It is important that you keep us informed of any changes.
We have a Face Book Group Page CLICK HERE FOR THE FB PAGE
Please visit that page for updates regarding 100 Nights of Taps. It will be an active page during the summer.
Important information.
Buglers will be expected to report to the Gatehouse located by the entrance to the Cemetery on Baltimore Pike (Rte. 97) by 6:30 PM on the evening they sound Taps and will sound Taps at 7 PM sharp. There will be a representative there to greet each performer. During the summer there might be a special guest who will give a short presentation prior to Taps. We will also have special ceremonies on Memorial Day May 27, D-Day June 6, Flag Day June 14, Gettysburg Brass Band Festival on June 8, Independence Day July 4, VJ Day August 14 and Labor Day September 2. There will be other special events too. These will be announced on the Facebook Page and Website. This event is rain or shine unless there is severe weather.
Taps is a solemn honor to those who have died in service to our country and to those who are serving in uniform today. Please make every effort to perform this call in a dignified manner. Photos and videos are allowed. We will post photos each day. No solicitation allowed unless approved ahead of time. No pets (unless it's a service animal) are allowed in the cemetery.
PLEASE DRESS APPROPRIATELY
-Military or Civilian dress (appropriate clothes please) If you wear a military uniform, veteran service organization, band uniform or any outfit representing a group, please wear the uniform in keeping with rules and regulations governing the wear.
-Civil War Re-enactors (Union only please)
-Any other US Military Re-enactors (WWI, WWII, etc..)
-You may use a bugle, cornet or trumpet
-Echo Taps will be allowed for this event if you are coming with another bugler. Please let us know ahead of time.
Taps performance guidelines can be found at http://tapsbugler.com/taps-performance-guidelines/
PUBLICITY
100 NIGHTS OF TAPS GETTYSBURG 2019 is sponsored by The Lincoln Fellowship of Pennsylvania, Taps For Veterans, and The National Park Service.
We encourage you to contact your local newspaper, television and other media to promote your performance at the 100 Nights of Taps. Please notify Wendy Allen at wallen_123@comcast.net if you are contacted by media so you can get a list of talking points about 100 Nights of Taps, The Lincoln Fellowship of Pennsylvania and Taps For Veterans.
Thanks for taking of your time and talent to be part of 100 NIGHTS OF TAPS GETTYSBURG 2018!
DATES AND ROSTER-100 NIGHTS OF TAPS GETTYSBURG 2019
Monday May 27-Special Opening Night Ceremonies (all are welcome)
Tuesday May 28-
Wednesday May 2-
Thursday May 30- 
Friday May 31-
Saturday June 1-
Sunday June 2-
Monday June 3-
Tuesday June 4-
Wednesday June 5-
Thursday June 6-
Friday June 7-
Saturday June 8-Gettysburg Brass Band Festival Buglers -all are welcome
Sunday June 9-
Monday June 10-
Tuesday June 11-
Wednesday June 12-
Thursday June 13-
Friday June 14-
Saturday June 15-
Sunday June 16-
Monday June 17-
Tuesday June 18-
Wednesday June 19-
Thursday June 20-
Friday June 21-
Saturday June 22-
Sunday June 23-
Monday June 24-
Tuesday June 25-
Wednesday June 26-
Thursday June 27-
Friday June 28-
Saturday June 29-
Sunday June 30-
Monday July 1-
Tuesday July 2-
Wednesday July 3-
Thursday July 4-Special Guest Buglers-All are welcome
Friday July 5-
Saturday July 6-
Sunday July 7-
Monday July 8-
Tuesday July 9-
Wednesday July 10-
Thursday July 11-
Friday July 12-
Saturday July 13-
Sunday July 14-
Monday July 15-
Tuesday July 16-
Wednesday July 17–
Thursday July 18-
Friday July 19-
Saturday July 20-
Sunday July 21-
Monday July 22-
Tuesday July 23- 
Wednesday July 24-
Thursday July 25-
Friday July 26-
Saturday July 27-
Sunday July 28-
Monday July 29-
Tuesday July 30-
Wednesday July 31–
Thursday August 1-
Friday August 2-
Saturday August 3-
Sunday August 4-
Monday August 5-
Tuesday August 6-
Wednesday August 7-
Thursday August 8-
Friday August 9-
Saturday August 10-
Sunday August 11-
Monday August 12-
Tuesday August 13-
Wednesday August 14-
Thursday August 15-
Friday August 16-
Saturday August 17-
Sunday August 18-
Monday August 19-
Tuesday August 20-
Wednesday August 21-
Thursday August 22-
Friday August 23-
Saturday August 24-
Sunday August 25-
Monday August 26-
Tuesday August 27-
Wednesday August 28-
Thursday August 29-
Friday August 30-
Saturday August 31-
Sunday September 1-
Monday September 2-All are welcome for our closing ceremony.
More Articles
Tags: 100 Nights of Taps, Gettysburg National Cemetery, Gettysburg Taps, Jari Villanueva, Kanstul, Lincoln Fellowship, taps