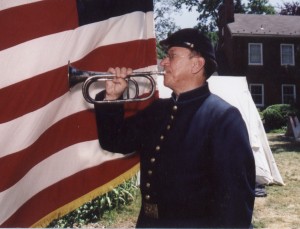 MAKE SURE YOU READ THE LAST PAGE FOR
THE TAPS MYTH CHALLENGE
Almost every day when I check my e-mails, I get a message or two asking about or forwarding a story for my comment or enlightenment. It starts with, "It all began during the Civil War…" and goes on to relate the story of a Union Captain Ellicombe and how he finds his wounded Confederate son on a battlefield. The story is that the music of Taps is found in the pocket of the young man and that's how the call came into being. It is a heartwarming and poignant story…
This story, of course, rates up there with the one that Colonel Oliver North tried to warn us about Osama Bin Laden during Congressional hearings and the one that Lee Marvin and Captain Kangaroo (Bob Keeshan) met as Marines on Iwo Jima,. Both stories contains a kernel of truth somewhere (North did testify at Congressional hearings, and Marvin and Keeshan were both Marines), yet the stories themselves are false. And like them, the Captain Ellicombe story is a yet another MYTH that makes it way around thanks to the Internet. Bad history, and we get to see a lot of it, needs to be corrected.
The story of Captain Robert Ellicombe and his Confederate son is a myth, a fake, a tall tale, a good anecdote to tell around the old campfire, but a story that, outside of the fact it takes place at Harrison's Landing, holds no truth whatsoever. This is one of those stories that is reprinted and forwarded to others and makes its way around the Internet around Memorial Day, Independence Day and Veterans Day. The story gets printed in papers, newsletters, and, sad to say, even on some military websites as the true version of how the bugle call of Taps came into existence.
I have sounded the call thousands of times as bugler in national cemeteries and at hundreds of memorial services. I am also a bugle historian who has spent much time researching this topic. I was the curator of the Taps Exhibit at Arlington National Cemetery and am a Civil War re-enactor. I, along with other history buffs, have researched the real story and have tried to squash this myth.
More Articles
Tags: myth, ripley's believe it or not, taps